GRUMble
Gets
new
boots

---
MAIN

HISTORY

TYRES

RIMS

FITTING


---

LINKS

So far

visitors have
got muddy here!

BACK TO MARTYN'S
LITTLE LAND ROVER
AND 101FC SITE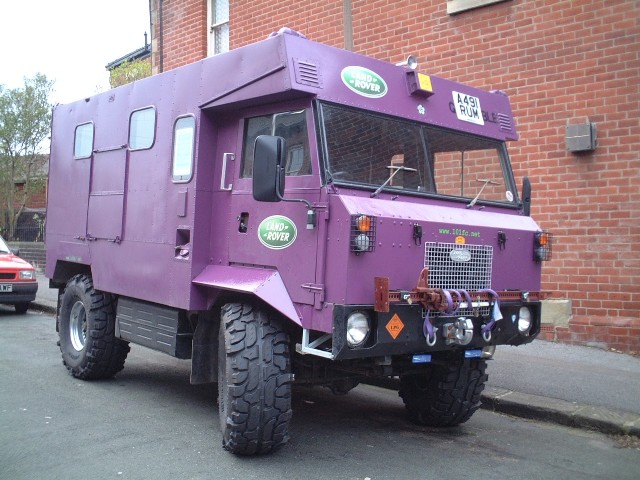 A story of two absolute Lunatics
and two incredible Engineers...



Our criteria was fairly simple, the tyres should:


Have excellent on and off road capability
Be as wide as feasible for an Ambi body.
Should fit a 16inch rim
should have a larger diameter than the existing 900X16
Be capable of taking the weight of a fully loaded Ambulance bodied 101
Have proven safety record
Be road legal in the UK
Fit in with the 'look' of a 101

After many hours of researching, searching, emailling and generally becoming rather frustrated, Andy stumbled upon the Thornbird - 14.5inches wide, 38inches diameter - a real beast of a tyre!
A few days further researching the legal status of these tyres in the UK, measuring the front and rear wheelspace on the 101 time and time again to ensure that they'd fit and assessing their overall suitability so far as regards going on a 101 which would be seriously thrown around on, and off road were concerned, convinced us that these were the perfect solution.
Having now found our tyres, we needed to find out how to buy them...

Numerous telephone calls and emaills to various companies in Europe and the USA were getting Andy nowhere. I suggested we go directly to the manufacturers - Interco, and ask if they'd consider shipping direct. This was to be the start of a long and occasionally frustrating process during which Andy got to be on firstname terms with one of their international sales bods. Quotations came in for shipping which were high, but not as much as a Canadian company had tried to stiff us with. We had to make a decision, and that decision was yes, buy them. A fairly major hit on his credit card notwithstanding, Andy did the deal and (eventually) we heard that our rubber - half a tonne of it, was somewhere mid Atlantic.

A week or so later my mobile phone rang. The tyres had arrived. Andy was manic, stunned in fact. An articulated lorry had pulled up outside his house to deliver them. They were big!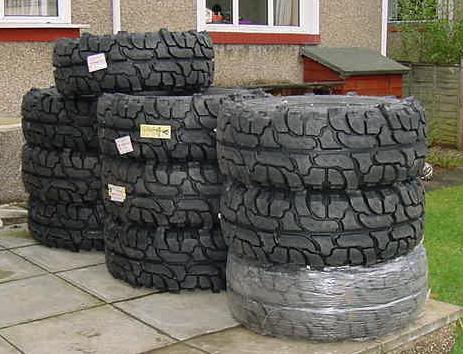 Taking up almost all of the patio that Andy once loved!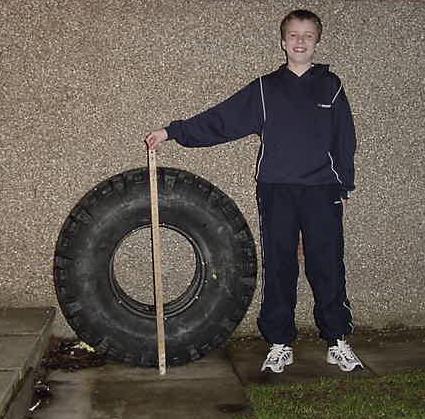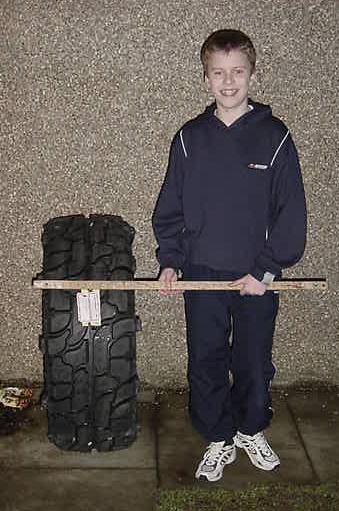 Craig (son of mad Scot) Thomlinson
measures his dads insanity


By this time I'd collected the custom made rims (next section, be patient!) and on Saturday 16th March 2002 Andy and I arranged to meet up in Penrith - about half way between Sheffield and Glasgow to swap rims for tyres.
They almost totally filled my trailer!








(Click thumbnail for 640X480 image)
Larger (1280X960) originals here

Right, now on to the rims!