GRUMble
Gets
new
boots

---
MAIN

HISTORY

TYRES

RIMS

FITTING


---

LINKS

So far

visitors have
got muddy here!

BACK TO MARTYN'S
LITTLE LAND ROVER
AND 101FC SITE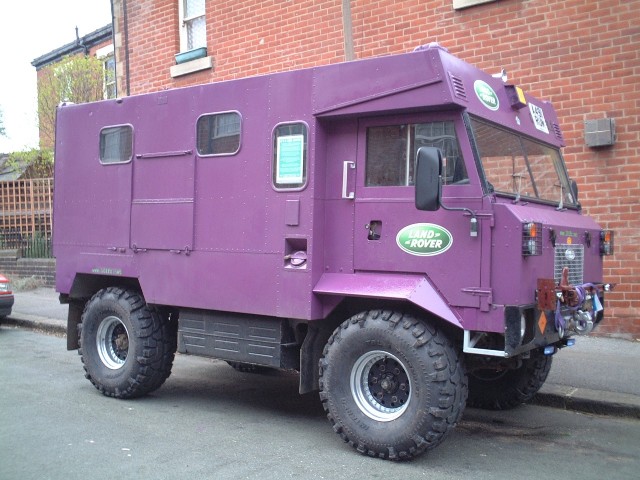 A story of two absolute Lunatics
and two incredible Engineers...



The story starts back in September 2001, at the LROi Show at Stoneleigh where Andy Thomlinson and I were mulling over the limitations of the standard bargrip tyres on our 101s...

I'd been looking at replacing the rubber for some time as, although superb 'off road', the bargrips achieve frightening Teflon properties on even mildly damp tarmac. As we do quite a few road miles in Grumble, it was only a matter of time before we ended up doing the skaters waltz in the fast lane of the M1...

I'd looked at the Michelin XZL 1100X16 to replace the 900X16 bargrips, but had concerns about putting them on the existing Six Stud rims. Andy had also been going through the same process and we thought it best to pool our resources and source something which would do exactly what we needed.

Now the real problem whenever Andy and I get talking is that we're both somewhat eccentric in our attitude. Andy and Mike Derrick had already inspired me to go and buy a Rimmer Brothers Large Bore Stainless Steel Exhaust system for Grumble, and after a few weeks following up the chat at Stoneleigh we were firmly planning by telephone and email, a modification which would be one of the most serious to date, for our 101s.

We got carried away, no question, no arguement - but this is to be expected whenever you get a mad Scot and a technohippy who are just soooo personally engaged in taking a 101 and making it, well, even better than imaginable!

Andy and I undoubtedly feed on each others insanity, like children playing or two mad professors, ideas can tend to run away - and with no governing device, we managed to fully commit ourselves to a project which some will love, others will hate but nobody can argue with on or off road!

Now please move along to the tyres page...