GRUMble
Gets
new
boots

---
MAIN

HISTORY

TYRES

RIMS

FITTING


---

LINKS

So far

visitors have
got muddy here!

BACK TO MARTYN'S
LITTLE LAND ROVER
AND 101FC SITE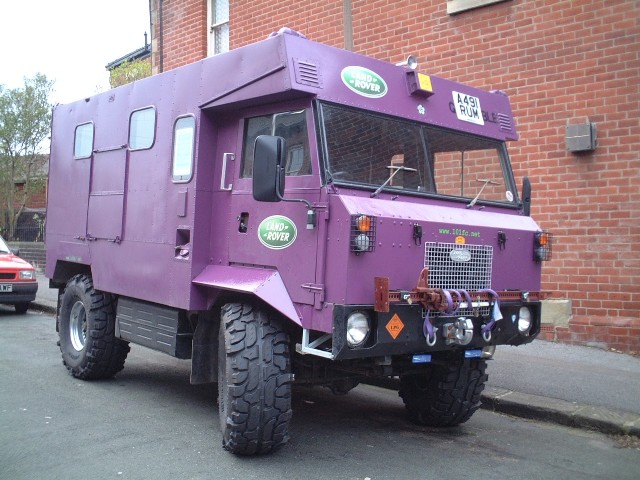 A story of two absolute Lunatics
and two incredible Engineers...



Click the thumbnail for 640X480 image
Larger (1280X960) originals here



It was evident that the tyres were not going to fit on a standard 16inch Six Stud rim!

The insanity got worse (or better, depending upon your perspective). Enter the first remarkable Engineer of this story...

I'd spoken to Matt Lee from M J Lee Engineering in Doncaster before about possibly making some replacement rims for Grumble and Andy suggested we place an order with him for some 16X10 three-piece split-rims.

I arranged to go and see them, so they could measure the fitting. Matt hasn't made Six Stud rims for a 101 before and it took several visits for him to be happy with the measurements (on one occasion they re-milled the boss four times, each time by a difference of .5mm to get it as exact as possible!)

One thing instantly hits you when you turn up at M J Lee Engineering - these are old school, dedicated Engineers! It really was nice to find that these types still exist, capable of thinking through a problem, turning it into an opportunity and doing a first rate job.

The following pics show the fitting of the trial boss to Grumble and some of the impressive machinery they use to manufacture world-beating rims (like the famous Mach 5) - all in-house.



























During my first visit I was puzzled by 'Mrs Lee'. I knew that I recognised her from somewhere and it later dawned on me that this was actually Stephanie Simmonite - of the equally world-beating Simmonite Sisters. I was rather embarrased, as I'd been telling Charlotte about the frames Matt makes for racers, and she commented "boys games eh?", to which I responded that there were a couple of women who generally knock the spots of most blokes in the racing world - referring, of course to Rachael and Stephanie - and no, the penny still didn't drop...

Stephanie and Matt got married last year and when I visited to finally collect the finished rims, couldn't resist the opportunity to capture them both. There's actually three people in these shots, as Stephanie is expecting. Given that Matt is also an accomplished racer, this child couldn't have a better start in life for a future which I reckon we should all watch!





Matt and Stephanie
A really super couple!




Anyway, I digress - back to the superb rims!

Matt, being a total perfectionist wasn't happy with the finish of the powder coating on the outer rims.

To be fair, he did have a point I guess, in that some slight scratches from milling the holes hadn't been polished out before coating - but in all honesty, it really was just cosmetic and didn't really detract from the totally remarkable job he'd made of them - thanks Matt!






The Business!
If you have to have rims made
You have to have Matt make them!


And finally... Fitting it all together!