GRUMble
Gets
new
boots

---
MAIN

HISTORY

TYRES

RIMS

FITTING


---

LINKS

So far

visitors have
got muddy here!

BACK TO MARTYN'S
LITTLE LAND ROVER
AND 101FC SITE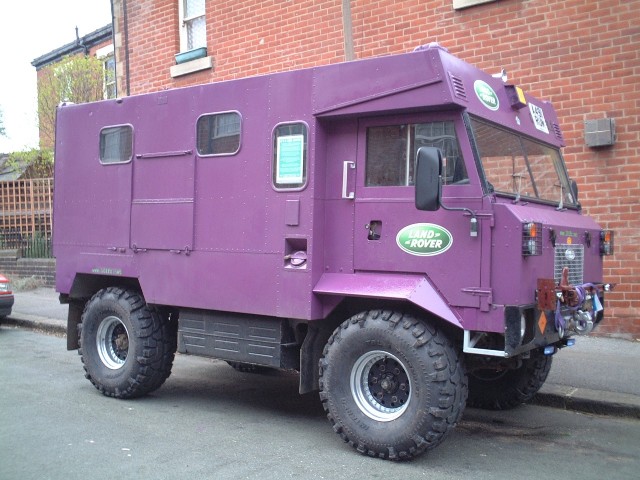 A story of two absolute Lunatics
and two incredible Engineers...



Click the thumbnail for 640X480 image
Larger (1280X960) originals here



We had the tyres...
We had the rims...
Now we had to get it all together!

First stop was Attercliffe Tyre Services in Sheffield. They're used to doing commercial vehicles but when they saw the extent of job in hand, took a deep breath...








The rims fit their machine perfectly, but the tyres only had about half an inch clearance.




Less than 45 minutes later the fully assembled wheels were in the back of my trailer ready to drop off at Warrens place. Enter the second incredible Engineer of this story...







By now it was dark and wet. I dumped the wheels with Warren and went home.





Max couldn't really work out
what the fuss was all about...

The next day we looked, for the first time, at the difference!




They're big...











Our measurements and planning were perfect. The wheels fit the rear arches better than we'd dreamed. It's always a nail-biting time, given all of the planning, waiting to see if we'd got it right. We had!

Now we needed to think about the front...

Many visitors to this site will already be aware of the man they call 'Warren' at WGB Autos in Sheffield. Warren does all of the serious work on Grumble and has a deep love of all things Landroverish. He is also highly safety conscious and likes to fully plan and work out everything he does in advance.

We knew that the front would need to be extended as the cab is a tad narrower than the body on a 101 Ambulance, so Warren went to work fabricating some strengthened wheel arches...





















Short break...




A couple of pics of how Warren maounted the electric fan...
Now back to the wheel arches...






Perfect!
Warren kept the line of the rear arch height - small attention to detail which is the mark of a true Engineer!



Getting in?
Obviously with the extra two inch ride height and protruding wheel arches, enabling Charlotte to get in was something of an issue. Some steps were needed, and as ever, Warren had worked out how these should be made, and also worked out how to mount them so that they would be strong enough to cope with my weight!













A few coats of primer and then Purple...
















Done!