The Widest Beach in the World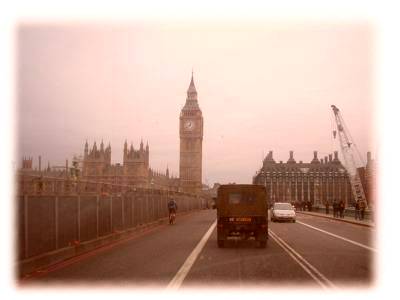 30th Anniversary - 15th Jan 2005 - London

To celebrate the expedition, 7 101s and their various owners met just before Noon on Saturday 15th January 2005 on Belvedere Road, by the London Eye. At Noon we set off to cross Westminster Bridge...








What had started as a cold, frosty, dismal misty winters day turned out again to prove that the Gods must be Land Rover enthusiasts, for the sun did shine and the clouds abate...

Regathering back at the Eye, we found we had in our number someone who actually knew their way around London far better than any of the rest of us (blush, even those of us who were born or grew up there...).

Off we trotted for another, tightly ordered and somewhat dignified convoy, back over Westminster Bridge, around Parliament Square, up Great George Street and Birdcage Walk, onto Spur Road, past Buckingham Palace (sadly not being invited in for Tea), down The Mall past Horseguards and the Old Admiralty, through Admiralty Arch (itself celebrating 100 years in 2006), all the way down Whitehall, passing Downing Street - (again without being invited in for Tea), around Trafalgar Square onto Parliament Street before going back over Westminster Bridge and mustering by The Eye.


































Many thanks to the chaps at the Met, especially Alan Collis for suggesting a muster point, route and alerting the local security bods that some odd looking military vehicles may be driving around, and not to shoot at us!

Make a date in your Diary now for the
40th Anniversary :-)