Indoor 4X4 Show - Donnington Park
Sunday 10th February 2002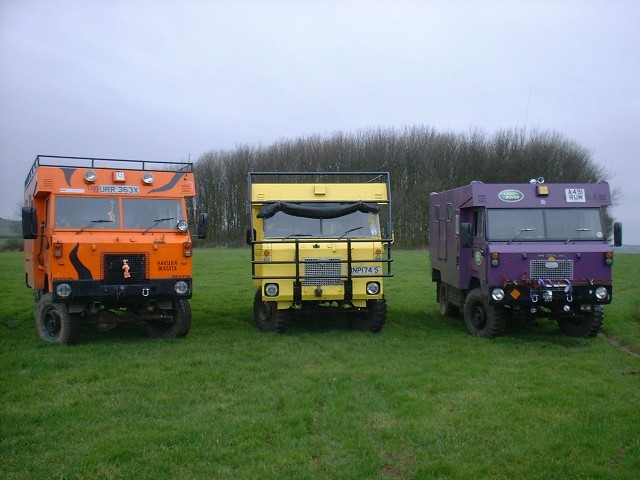 Probably the only time you'll ever see three brightly coloured 101 expedition vehicles together at the same time!
From left to right:

TiggURR - Rich Claftons' Tdi expedition camper
Tonka Scott and Kates' Tdi converted expedition camper
GRUMble - you know already...

This was the perfect run for Scott and Kate as less than 24 hours previously, they were finalising the Tdi conversion in Sheffield!

No pics from inside the show, but predictably this was full of the usual suspects from the 4X4 and Land Rover community and a good opportunity to look forward to another good show season.

Most pics here were taken after David Barker from LRE Magazine decided it was a photo opportunity not to be missed. I'm actually dreading any Editorial he writes to go with the pictures!
Click thumbnail to see full size image
Original, high resolution pics available HERE

| | | |
| --- | --- | --- |
| | | |
| | | |
| | | |
| | | |
| | | |
| | | |
| | | |
| | | |
| | | |
| | | |
| | | |
&copy ALL MATERIAL Copyright 1999-2002 Martyn Bailey, ALL RIGHTS RESERVED
I grant full permission to use any material for non-commercial purposes provided full acknowledgement and credit is given.
For commercial use or publication please email me: martyn@101fc.net